Bamboo Umbrella
This masked beauty is obviously having a great time at a Burning Man festival in Dogpatch.
"Aunt Mary" on 420
Marlene in Afro-Pattern Dress
At an opening reception at the Museum of Crafts & Arts in Dogpatch.
Loretta Gooden
Interpreting the blues at Club Deluxe in the Haight.
Charlie McCarthy on Saxophone
Accompanying Loretta Gooden at Club Deluxe in the Haight.
Harley-Davidson Master
I'm sorry to say I didn't write down this gentleman's name. He patiently posed for me while waiting for his tour time at the Amargosa Opera House & Museum, Amargosa, NV.
Rachel By The Pool
Rachel is being a good sport. She hates having her picture taken. But this shot was irrisiteble, Rach!
Jesse and Mandolin
On The Town
Sailor enjoying shore leave in North Beach, San Francisco.
Poet-Singer/Songwriter Joseph Maviglia
In performance at Bird & Beckett, San Francisco.
Greg at Simple Pleasures Cafe
The Artist With His Work
Art Students in Golden Gate Park
After visiting the deYoung Museum.
From Fantasy to Infinity
Jinny at the Legion of Honor
Jinny is a sculptor who designs & creates her astonishing clothes.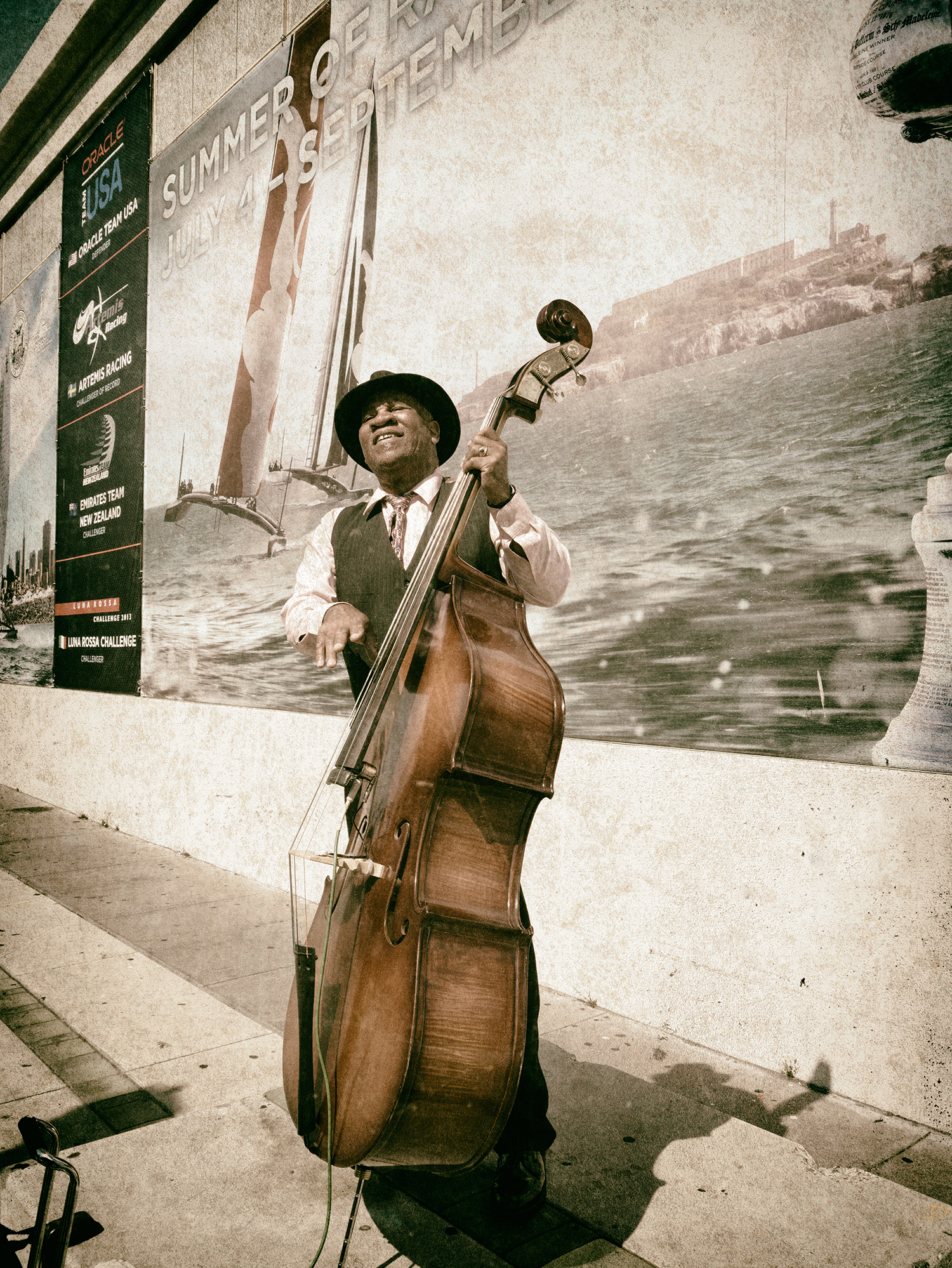 Street Musician, Embarcadero
Then and Now
A woman dancing on the streets of Paris. A jazz trio is playing out of view to her left. Behind her a young woman, dancing alone on Pont Neuf, symbolizes her younger self.
Steve At the Piano
Steve charmed me with his singing and playing at a North Beach coffee shop.
Cigarettes & Coffee in Le Marais
Cigarette Break
Michael is a free-lance graphic designer from Slovenia via Prague and London. We met at an "Urban Hiking" meetup and found a great deal to talk about.
Asleep On The Job
World Famous Diamond Dog entertains visitors to the Sausalito Ferry Landing accompanied by her human, Peter Rasputin Romanov.
A Kiss is Just a Kiss
Making new friends in North Beach.
Philip in White Hat
A Boy. A Hat. A Horse.
Tattoo Frame for a Tiny Face
Friends at an Exhibition
Swing Dancing at Club Deluxe